Reside here at The Marlay
We have 124 single en-suite bedrooms over 3 floors. Each floor has a name:
Floor Name
Ground Floor = Grange 1 and 2
1st floor = Whitechurch 1 and 2
2nd floor = Threerock 1 and 2
Each floor has its own lounges and dining rooms. In addition we have a library, hairdressing salon, oratory and an enclosed courtyard.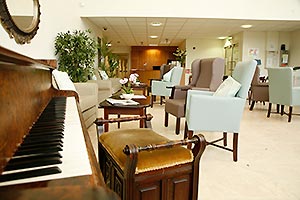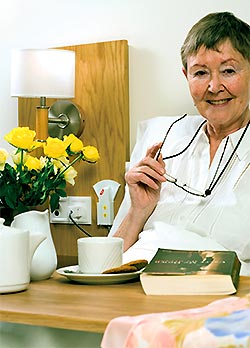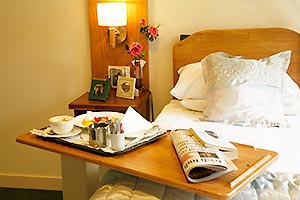 ~ Join Us ~
Aid Call System
This system enables you to summon help from the staff at all times. On admission, a member of staff will demonstrate how to operate the Aid Call system.
Fire Safety
The Home is equipped with a fire alarm system. The fire bell is tested on a regular basis. Our staff receive fire training and will assist you with the fire drill. Further information on Fire Safety is outlined in the Statement of Purpose and Function booklet.
Laundry
The Marlay provides and launders all bed linen and towels. We also launders all resident's serviceable, machine-washable, light-weight clothing. Please note that the laundry washing and drying machines are commercial machines and therefore delicate fabrics cannot be washed. Such items would need to be taken home for laundering. However dry-cleaning can be arranged with the housekeeper.